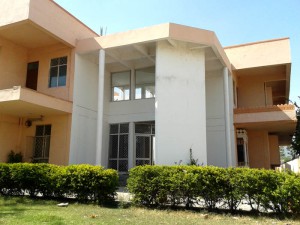 Food Craft Institute Udaipur was established in the year 1989 and was upgraded to State Institute of Hotel Management, Udaipur in January 2017. The institute has produced professionals holding positions as General Manager's, departmental heads positions in the hospitality in India and abroad.
Few are entrepreneurs doing excellent business .The Institute has experienced faculty and has well equipped labs. The Institute also has a 40 bedded boy's hostel
The Institute has Classrooms, Two Restaurants, Pantry, One Basic Training Kitchen, One Quantity food Kitchen, Larder, Training Guest Room, Linen Room, Reception/Front Desk, Conference Hall, Dining Hall, Computer Room, Library, Stores etc. apart from Administrative Office and Record Room.
The Institute has given excellent results over the year. Six of our students have received National Award for Academic excellence in Front Office, Food Production and Housekeeping on National Tourism Awards Function at New Delhi. At present the Institute has two senior Lecturers and two Asst. Lecturers and Five Visiting faculty to teach different subjects of the four trade diplomas & other programmes.
The principal and faculties have been trained in Direct Trainer Skill, Design of Training, Management of Training, Training- 'Train the trainer' Workshop, Manpower Development etc. The principal went for management development programme at ASKI Hyderabad, Malasiya, & Singapore.
Asst. Lecturers were sent for the workshop on Regional Cooking at Chandigarh & on Wines at Bangalore. Since the inception, the institute has groomed its students into fine professional. Many of them are working at different managerial levels and some of them have even reached to the level of General Manager of 5 star hotels.